Internet and production:
The focus of the sixth edition of Dominios Latinoamérica
The sixth consecutive edition of DOMINIOS LATINOAMÉRICA returns to Argentina, on December 5, 2017. CCAT LAT and INTA, the National Institute of Agricultural Technology come together to convene an international conference that will focus on "Internet and production: challenges of an intelligent, precise and dynamic agriculture".

The event is also supported by the Catholic University of Cuyo, the National University of San Luis and the Ministry of Science and Technology of the Government of San Luis.
National and international experts will participate in this activity that will take place in the city of San Luis.

Registrations are already open and can be done until November 27 in this link.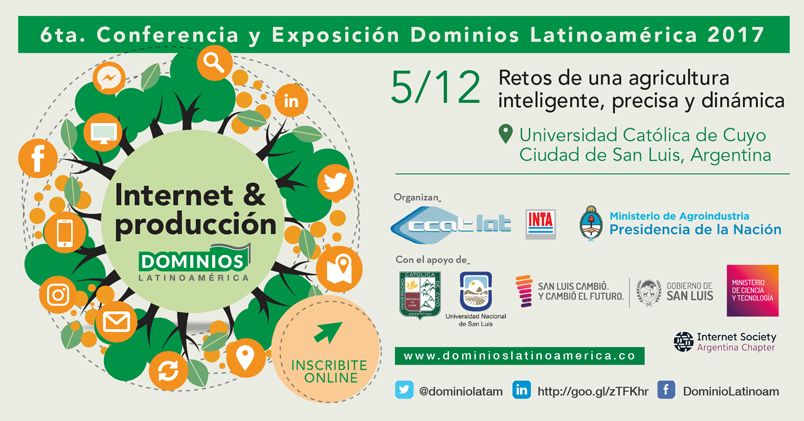 From the internet of consumption to the internet of production
For decades, at a global level, information and communication technologies (ICT) have been introducing political, economic, social and cultural changes, among many others, in various spheres of life and human activity.
This process of transformation – which follows its progress and evolution – has acquired different nuances in the different societies and has become a key for anyone who wants to act on the present and project forward.
Recent research shows that in the specific case of agricultural activity ICTs are bringing new experiences, transforming not only certain production practices but also modes of communication, management and organization in farms of different scales.
In this sense, the sixth edition of DOMINIOS LATINOAMERICA will try to capture the interest and question several critical points that are characterizing an internet of production.
In this way, the program will propose a review of advances, trends and challenges regarding internet governance, livestock and precision agriculture, geo-informatics, internet of things, rural connectivity, family business management, 3D printing and artificial intelligence.
REGISTRATIONS
Conference
The 2017 DOMINIOS LATINOAMÉRICA Conference and exhibition is open to the community with previous registration. It will take place at the headquarters of the Catholic University of Cuyo, located at Felipe Velázquez 471 in the city of San Luis. The conference can also be attended the remotely.
Registrations are open for both participation modalities in this link.
AgroTIC Exhibition
Within the Conference, thre will be an exhibition of entrepreneurs linked to the development of digital options for the agricultural and production sector.
Participation in this exhibition is open to the community, and it requires prior registration in the following link.
The organizers will make a selection of the participants of the Expo AgroTIC and will communicate with the selected exhibitors during the month of November.