LACNIC 28 – LACNOG 2017 will be held in Montevideo, Uruguay, from September 18th to 22th, 2017. The meeting will take place at the Radisson Montevideo Victoria Plaza Hotel.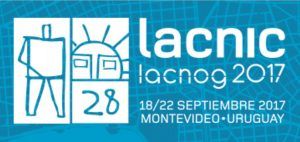 As usual, the LACNIC meeting will take place in conjunction with the annual meeting of the Latin American and Caribbean Network Operators Forum, LACNOG, in its 2017 edition. The general program consists of technical training workshops on new technologies, security, and IPv6 deployment, as well as lectures and panel discussions on current issues and keynote presentations by leading international experts.
 The meeting will be attended by Steve Crocker, President of the Internet Corporation for Assigned Names and Numbers (ICANN) and one of the experts who laid the foundations for Internet creation as we know it today.
Another highlight will be the panel "15 years building community" to celebrate the anniversary of LACNIC.