BARCELONA, Spain (March 02, 2017) – Afilias Technologies, makers of market-leading device intelligence platform DeviceAtlas, is pleased to announce today recognition by IHS Markit (Nasdaq: INFO), a world leader in critical information, analytics and solutions.
Presented Sunday, February 26 at the ShowStoppers Mobile World Congress (MWC) event, IHS Markit Innovation Awards showcased the most innovative technology products of event exhibitors and "DeviceAtlas" was the winner for the category of Apps, Platforms & Software. DeviceAtlas is the world-leading mobile device detection and intelligence solution providing up-to-date device data for different industry verticals.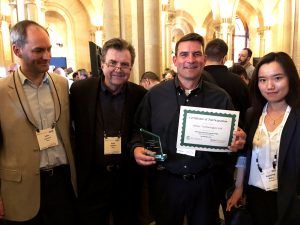 DeviceAtlas is the only platform that can provide holistic views of device usage across web, apps and mobile network layers. This capability dramatically improves the ability of app publishers and advertising platforms to more effectively monetize native apps. Business intelligence users can directly compare results by device across environments, enabling them to provide richer reporting to their internal customers. Device monetization performance can now be understood more completely, making the characteristics affecting performance more easily identified.
"We saw some truly amazing entries here in Spain; this year's competitors stood out for their creativity, ingenuity and spirit of innovation and we congratulate Afilias Technologies Limited for their win," said Ian Weightman, vice president of research and operations, IHS Markit.
"We are pleased to be honored alongside of companies that include IntelSecurity Group and HP and sincerely appreciate the honor," said John A. Leonard, Director of Product Strategy at DeviceAtlas. He continued "With recently added intelligence on the native app environment, DeviceAtlas now provides the most complete, accurate and up to date deep device intelligence available in the market. We would like to thank both IHS and Showstoppers for this opportunity."
About Afilias Technologies
Afilias Technologies Limited, a wholly owned subsidiary of Afilias plc, is an expert provider of mobile and web technologies that help companies to reach their customers, regardless of device, content, or context. Products include the DeviceAtlas device intelligence solution, the goMobi website publishing solution and Developer tools such as mobiReady.
About IHS Markit
IHS Markit (Nasdaq: INFO) is a world leader in critical information, analytics and solutions for the major industries and markets that drive economies worldwide. The company delivers next-generation information, analytics and solutions to customers in business, finance and government, improving their operational efficiency and providing deep insights that lead to well-informed, confident decisions. IHS Markit has more than 50,000 key business and government customers, including 85 percent of the Fortune Global 500 and the world's leading financial institutions. Headquartered in London, IHS Markit is committed to sustainable, profitable growth.
About Showstoppers
Now in its 23rd year, ShowStoppers is the global leader in producing press and business events spanning the US, Europe and Asia. Each event organizes product introductions, sneak previews and demonstrations for selected journalists, bloggers, industry and financial analysts, venture capitalists and business executives. Industry leaders, innovators and startups exhibit to help generate news coverage and product reviews, make new connections, promote brand, and open new markets. ShowStoppers produces events at CES and Mobile World Congress, among others; the official press events at IFA and NAB; and partners with CES and CE Week.